Odds update every 5 minutes | Back to Election Betting Odds
Track Record - Election Betting Odds
By Maxim Lott
Updated Dec 11, 2022
ElectionBettingOdds.com has tracked some 807 different candidate chances across dozens of races between 2016 and December 2022.
How accurate has this site been?
When a candidate favored by bettors loses, it's easy to fall into the trap of thinking the bettors were "wrong". But remember that when bettors give someone, for example, a 75% chance to win -- that also means the bettors give the person a 25% chance to lose.
The following graph shows how closely the betting tracked reality.
The blue line shows what predictions would look like if they were perfect. The orange line shows how often bettors' predictions within different ranges (e.g., between 60-80%) actually came to pass. Where the orange line differs from the blue line, the predictions were off somewhat: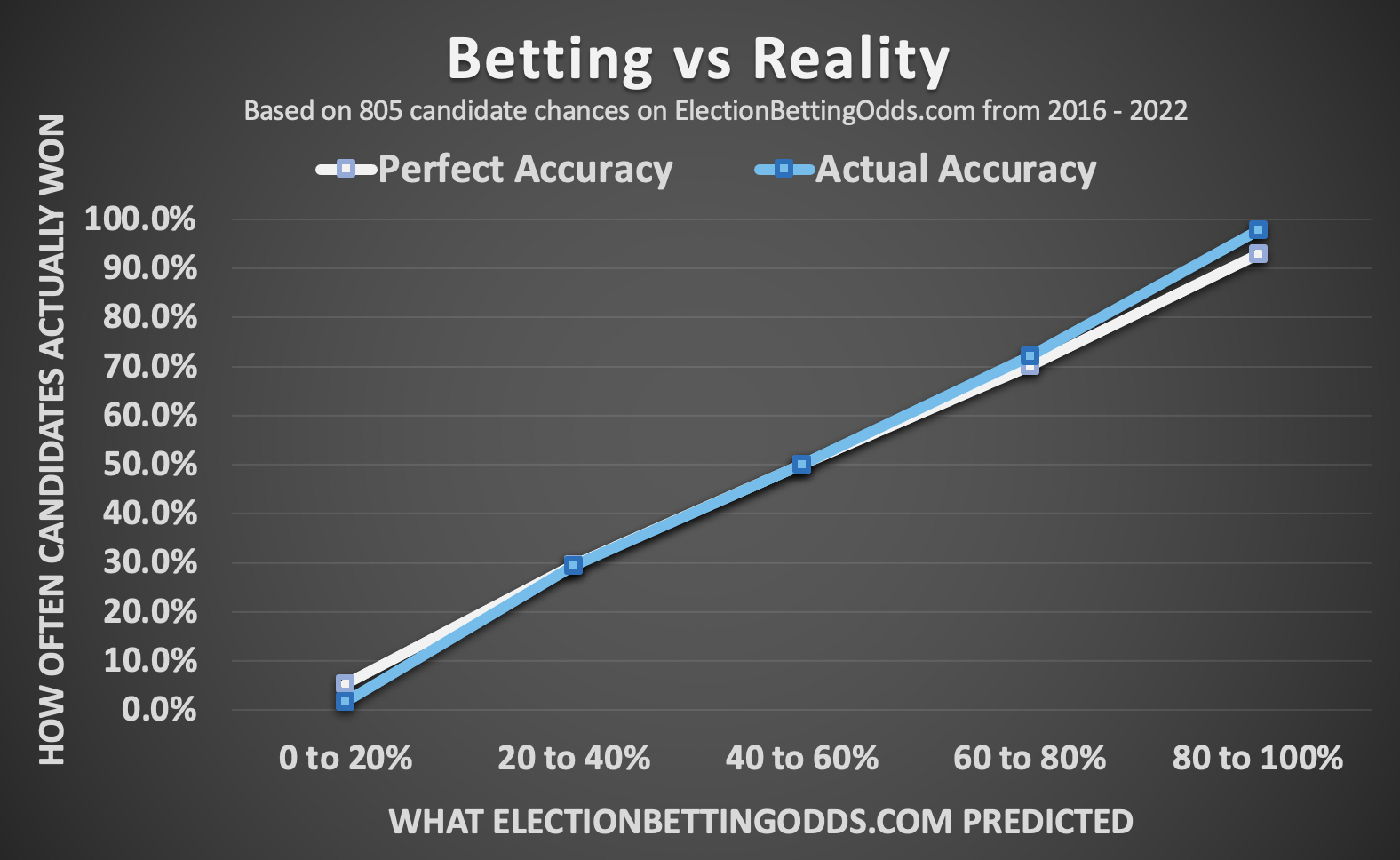 We can see that, using these prediction ranges spanning 20 percentage points, ElectionBettingOdds.com was extremely accurate. For example, out of all candidates who were given between a 20 and 40% chance of winning at 8am on election day, 27.6% of them actually won.
We do also see some systematic "underdog" bias at the edges. For example, for candidates in the 0% to 20% range, bettors gave an average prediction of a 5.4% chance. Yet, only 1.7% of those candidates actually ended up winning. The inverse occurs for highly-favored candidates, who should have been given even higher odds. This bias has been in part caused by regulatory trading limits on bettors at PredictIt, which prevents savvy traders on that market from making much money by correcting such odds.
The graph below holds predictions to a more precise standard -- 10% intervals, with smaller sample sizes.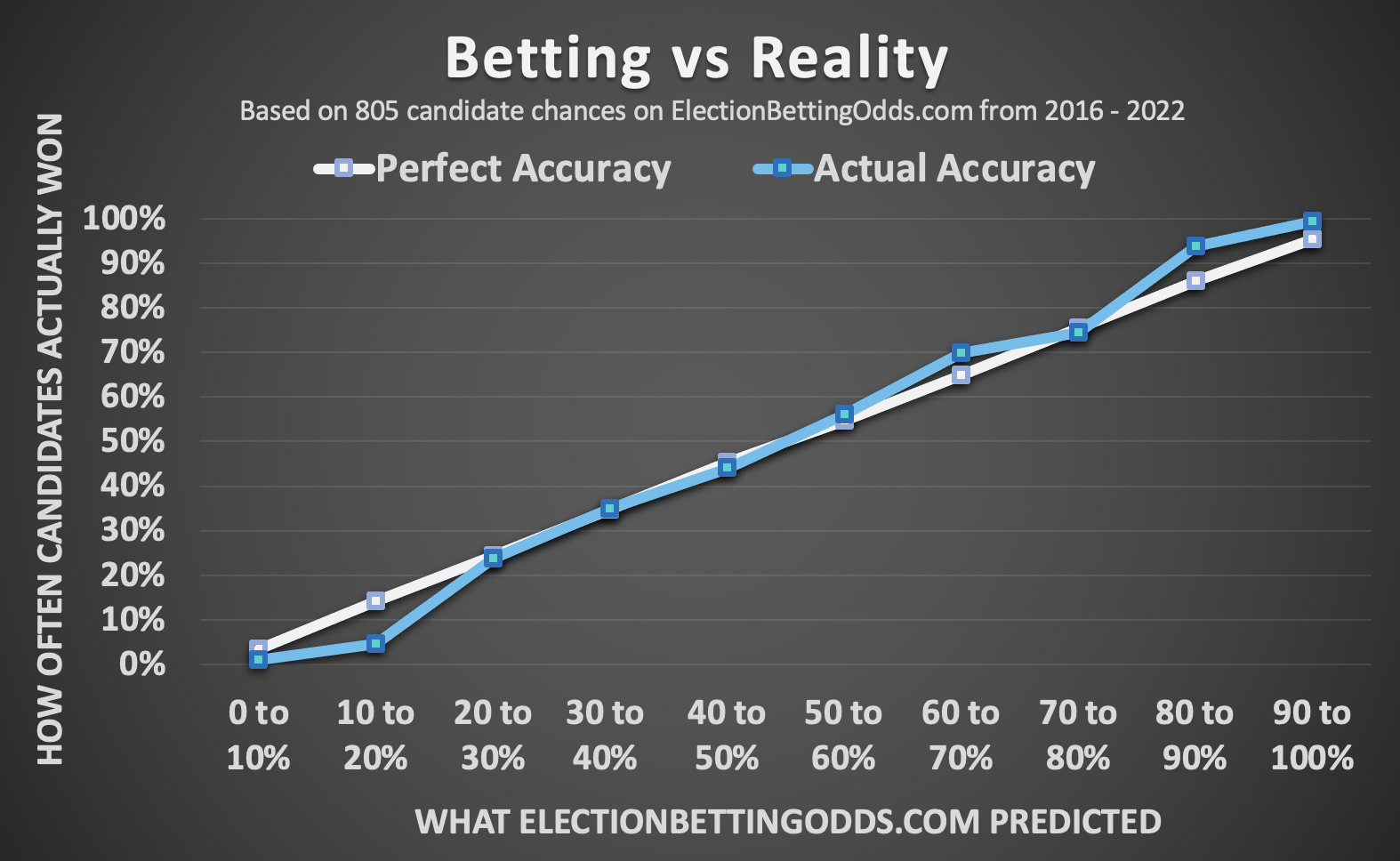 We can also see that the accuracy of the odds has been improving over time, as the number of races tracked has risen and reduced randomness. For comparison, here was the same graph after our 2018 update, where some 450 candidate chances had been tracked:
How does all the above compare to other outlets? For a detailed comparison to the predictions of the best forecaster (Nate Silver's 538) see here. That analysis goes all the way from 2016-2022, and does a precise apples-to-apples comparison between the two prediction methods. Considering "experts" and models more broadly, several studies suggest that betting beats listening only to polls. See this one in Public Opinion Quarterly. Also, a study by the author of Superforecasting got smart people to make predictions for study of their accuracy:
I managed to recruit 284 serious professionals, card-carrying experts whose livelihoods involved analyzing political and economic trends and events... Almost all had postgraduate training; half had PhDs...
In the end:
the average expert was roughly as accurate as a dart-throwing chimpanzee.
Certain groups of pundits - namely ideological ones and those with frequent TV appearances - actually did worse than dart-throwing chimpanzees.
Note: This post has been updated with all elections tracked, up through December 2022. To see the old graphs with only data going up to 2018, see here. For an even older page, with only 2016 data, see here.
To come: an analysis looking at more predictions made by the site over time (say, a week before an election, or a month) -- as opposed to data used in the above graph, which just looks at a single prediction for each candidate, taken on the morning of the election.
As an aside, here were the biggest upsets we've tracked (which is unchanged since the 2018 update.) The following candidates were big underdogs in the betting. All won:
| CANDIDATE | STATE | EBO Probability |
| --- | --- | --- |
| Cruz | OK | 4.7% |
| Cruz | ME | 6.4% |
| Sanders | MI | 8.4% |
| Trump | WI General Election | 12.5% |
| REP Sen | WI General Election - Senate | 13.5% |
| Trump | USA General Election | 20.2% |
| Trump | PA General Election | 20.6% |
| Sanders | IN | 22.0% |
| REP Sen | PA General Election - Senate | 23.0% |
| Trump | MI General Election | 24.8% |
| Sanders | MN | 24.9% |
| Leave | Brexit | 24.9% |
Below is ElectionBettingOdds.com's full track record, sorted by date. Send any questions or comments to Maxim Lott at maxim.lott@gmail.com or at @maximlott on Twitter. The graphs above are based on these data.
| Year | General/Primary | State | Type | CANDIDATE | EBO Probability | WIN? | 1=yes, 0=no | Brier score |
| --- | --- | --- | --- | --- | --- | --- | --- | --- |
| 2016 | Brexit | Intl. | UK | Leave | 24.9% | Won | 1 | 0.5640 |
| 2016 | Brexit | Intl. | UK | Stay | 75.1% | Lost | 0 | 0.5640 |
| 2016 | General | AK | President | Clinton | 14.5% | Lost | 0 | 0.0210 |
| 2016 | General | AK | President | Trump | 85.5% | Won | 1 | 0.0210 |
| 2016 | General | AK | Senate | Democrat | 6.4% | Lost | 0 | 0.0041 |
| 2016 | General | AK | Senate | Republican | 93.6% | Won | 1 | 0.0041 |
| 2016 | General | AL | President | Clinton | 2.5% | Lost | 0 | 0.0006 |
| 2016 | General | AL | President | Trump | 97.5% | Won | 1 | 0.0006 |
| 2016 | General | AR | President | Clinton | 3.5% | Lost | 0 | 0.0012 |
| 2016 | General | AR | President | Trump | 96.5% | Won | 1 | 0.0012 |
| 2016 | General | AZ | President | Clinton | 25.0% | Lost | 0 | 0.0625 |
| 2016 | General | AZ | President | Trump | 75.0% | Won | 1 | 0.0625 |
| 2016 | General | AZ | Senate | Democrat | 5.5% | Lost | 0 | 0.0030 |
| 2016 | General | AZ | Senate | Republican | 94.5% | Won | 1 | 0.0030 |
| 2016 | General | CA | President | Clinton | 96.0% | Won | 1 | 0.0016 |
| 2016 | General | CA | President | Trump | 4.0% | Lost | 0 | 0.0016 |
| 2016 | General | CO | President | Clinton | 79.0% | Won | 1 | 0.0441 |
| 2016 | General | CO | President | Trump | 21.5% | Lost | 0 | 0.0462 |
| 2016 | General | CO | Senate | Democrat | 92.5% | Won | 1 | 0.0056 |
| 2016 | General | CO | Senate | Republican | 7.5% | Lost | 0 | 0.0056 |
| 2016 | General | CT | President | Clinton | 94.0% | Won | 1 | 0.0036 |
| 2016 | General | CT | President | Trump | 6.0% | Lost | 0 | 0.0036 |
| 2016 | General | DE | President | Clinton | 95.5% | Won | 1 | 0.0020 |
| 2016 | General | DE | President | Trump | 4.5% | Lost | 0 | 0.0020 |
| 2016 | General | FL | President | Clinton | 66.8% | Lost | 0 | 0.4462 |
| 2016 | General | FL | President | Trump | 33.2% | Won | 1 | 0.4462 |
| 2016 | General | FL | Senate | Democrat | 14.1% | Lost | 0 | 0.0199 |
| 2016 | General | FL | Senate | Republican | 85.9% | Won | 1 | 0.0199 |
| 2016 | General | GA | President | Clinton | 13.9% | Lost | 0 | 0.0193 |
| 2016 | General | GA | President | Trump | 86.1% | Won | 1 | 0.0193 |
| 2016 | General | HI | President | Clinton | 96.0% | Won | 1 | 0.0016 |
| 2016 | General | HI | President | Trump | 4.0% | Lost | 0 | 0.0016 |
| 2016 | General | IA | President | Clinton | 25.0% | Lost | 0 | 0.0625 |
| 2016 | General | IA | President | Trump | 75.0% | Won | 1 | 0.0625 |
| 2016 | General | IA | Senate | Democrat | 2.5% | Lost | 0 | 0.0006 |
| 2016 | General | IA | Senate | Republican | 97.5% | Won | 1 | 0.0006 |
| 2016 | General | ID | President | Clinton | 3.5% | Lost | 0 | 0.0012 |
| 2016 | General | ID | President | Trump | 96.5% | Won | 1 | 0.0012 |
| 2016 | General | IL | President | Clinton | 95.5% | Won | 1 | 0.0020 |
| 2016 | General | IL | President | Trump | 4.5% | Lost | 0 | 0.0020 |
| 2016 | General | IL | Senate | Democrat | 95.1% | Won | 1 | 0.0024 |
| 2016 | General | IL | Senate | Republican | 4.9% | Lost | 0 | 0.0024 |
| 2016 | General | IN | President | Clinton | 4.5% | Lost | 0 | 0.0020 |
| 2016 | General | IN | President | Trump | 95.5% | Won | 1 | 0.0020 |
| 2016 | General | IN | Senate | Democrat | 33.5% | Lost | 0 | 0.1122 |
| 2016 | General | IN | Senate | Republican | 66.0% | Won | 1 | 0.1156 |
| 2016 | General | KS | President | Clinton | 4.0% | Lost | 0 | 0.0016 |
| 2016 | General | KS | President | Trump | 96.0% | Won | 1 | 0.0016 |
| 2016 | General | KY | President | Clinton | 3.5% | Lost | 0 | 0.0012 |
| 2016 | General | KY | President | Trump | 96.5% | Won | 1 | 0.0012 |
| 2016 | General | LA | President | Clinton | 2.5% | Lost | 0 | 0.0006 |
| 2016 | General | LA | President | Trump | 97.5% | Won | 1 | 0.0006 |
| 2016 | General | LA | Senate | Democrat | 14.8% | Lost | 0 | 0.0219 |
| 2016 | General | LA | Senate | Republican | 85.2% | Won | 1 | 0.0219 |
| 2016 | General | MA | President | Clinton | 96.5% | Won | 1 | 0.0012 |
| 2016 | General | MA | President | Trump | 3.5% | Lost | 0 | 0.0012 |
| 2016 | General | MD | President | Clinton | 97.5% | Won | 1 | 0.0006 |
| 2016 | General | MD | President | Trump | 2.5% | Lost | 0 | 0.0006 |
| 2016 | General | MD | Senate | Democrat | 97.0% | Won | 1 | 0.0009 |
| 2016 | General | MD | Senate | Republican | 2.5% | Lost | 0 | 0.0006 |
| 2016 | General | ME | President | Clinton | 83.9% | Won | 1 | 0.0259 |
| 2016 | General | ME | President | Trump | 16.1% | Lost | 0 | 0.0259 |
| 2016 | General | MI | President | Clinton | 75.2% | Lost | 0 | 0.5655 |
| 2016 | General | MI | President | Trump | 24.8% | Won | 1 | 0.5655 |
| 2016 | General | MN | President | Clinton | 89.0% | Won | 1 | 0.0121 |
| 2016 | General | MN | President | Trump | 11.0% | Lost | 0 | 0.0121 |
| 2016 | General | MO | President | Clinton | 5.4% | Lost | 0 | 0.0029 |
| 2016 | General | MO | President | Trump | 94.6% | Won | 1 | 0.0029 |
| 2016 | General | MO | Senate | Democrat | 41.0% | Lost | 0 | 0.1681 |
| 2016 | General | MO | Senate | Republican | 59.0% | Won | 1 | 0.1681 |
| 2016 | General | MS | President | Clinton | 2.5% | Lost | 0 | 0.0006 |
| 2016 | General | MS | President | Trump | 97.0% | Won | 1 | 0.0009 |
| 2016 | General | MT | President | Clinton | 6.0% | Lost | 0 | 0.0036 |
| 2016 | General | MT | President | Trump | 94.0% | Won | 1 | 0.0036 |
| 2016 | General | National | President | Clinton | 79.5% | Lost | 0 | 0.6320 |
| 2016 | General | National | President | Johnson | 0.1% | Lost | 0 | 0.0000 |
| 2016 | General | National | President | McMullin | 0.1% | Lost | 0 | 0.0000 |
| 2016 | General | National | President | Stein | 0.1% | Lost | 0 | 0.0000 |
| 2016 | General | National | President | Trump | 20.2% | Won | 1 | 0.6368 |
| 2016 | General | NC | President | Clinton | 54.4% | Lost | 0 | 0.2959 |
| 2016 | General | NC | President | Trump | 45.6% | Won | 1 | 0.2959 |
| 2016 | General | NC | Senate | Democrat | 34.3% | Lost | 0 | 0.1176 |
| 2016 | General | NC | Senate | Republican | 65.7% | Won | 1 | 0.1176 |
| 2016 | General | ND | President | Clinton | 3.5% | Lost | 0 | 0.0012 |
| 2016 | General | ND | President | Trump | 96.5% | Won | 1 | 0.0012 |
| 2016 | General | NE | President | Clinton | 2.5% | Lost | 0 | 0.0006 |
| 2016 | General | NE | President | Trump | 97.5% | Won | 1 | 0.0006 |
| 2016 | General | NH | President | Clinton | 69.7% | Won | 1 | 0.0918 |
| 2016 | General | NH | President | Trump | 30.3% | Lost | 0 | 0.0918 |
| 2016 | General | NH | Senate | Democrat | 51.5% | Won | 1 | 0.2352 |
| 2016 | General | NH | Senate | Republican | 48.0% | Lost | 0 | 0.2304 |
| 2016 | General | NJ | President | Clinton | 94.6% | Won | 1 | 0.0029 |
| 2016 | General | NJ | President | Trump | 5.4% | Lost | 0 | 0.0029 |
| 2016 | General | NM | President | Clinton | 87.7% | Won | 1 | 0.0151 |
| 2016 | General | NM | President | Trump | 12.3% | Lost | 0 | 0.0151 |
| 2016 | General | NV | President | Clinton | 81.2% | Won | 1 | 0.0353 |
| 2016 | General | NV | President | Trump | 18.8% | Lost | 0 | 0.0353 |
| 2016 | General | NV | Senate | Democrat | 77.0% | Won | 1 | 0.0529 |
| 2016 | General | NV | Senate | Republican | 18.5% | Lost | 0 | 0.0342 |
| 2016 | General | NY | President | Clinton | 95.5% | Won | 1 | 0.0020 |
| 2016 | General | NY | President | Trump | 4.5% | Lost | 0 | 0.0020 |
| 2016 | General | OH | President | Clinton | 34.0% | Lost | 0 | 0.1156 |
| 2016 | General | OH | President | Trump | 66.0% | Won | 1 | 0.1156 |
| 2016 | General | OH | Senate | Democrat | 4.0% | Lost | 0 | 0.0016 |
| 2016 | General | OH | Senate | Republican | 96.0% | Won | 1 | 0.0016 |
| 2016 | General | OK | President | Clinton | 2.5% | Lost | 0 | 0.0006 |
| 2016 | General | OK | President | Trump | 97.5% | Won | 1 | 0.0006 |
| 2016 | General | OR | President | Clinton | 93.5% | Won | 1 | 0.0042 |
| 2016 | General | OR | President | Trump | 6.0% | Lost | 0 | 0.0036 |
| 2016 | General | PA | President | Clinton | 79.4% | Lost | 0 | 0.6304 |
| 2016 | General | PA | President | Trump | 20.6% | Won | 1 | 0.6304 |
| 2016 | General | PA | Senate | Democrat | 77.0% | Lost | 0 | 0.5929 |
| 2016 | General | PA | Senate | Republican | 23.0% | Won | 1 | 0.5929 |
| 2016 | General | RI | President | Clinton | 92.3% | Won | 1 | 0.0059 |
| 2016 | General | RI | President | Trump | 7.7% | Lost | 0 | 0.0059 |
| 2016 | General | SC | President | Clinton | 7.5% | Lost | 0 | 0.0056 |
| 2016 | General | SC | President | Trump | 92.5% | Won | 1 | 0.0056 |
| 2016 | General | SD | President | Clinton | 6.5% | Lost | 0 | 0.0042 |
| 2016 | General | SD | President | Trump | 93.5% | Won | 1 | 0.0042 |
| 2016 | General | TN | President | Clinton | 1.5% | Lost | 0 | 0.0002 |
| 2016 | General | TN | President | Trump | 98.5% | Won | 1 | 0.0002 |
| 2016 | General | TX | President | Clinton | 8.5% | Lost | 0 | 0.0072 |
| 2016 | General | TX | President | Trump | 91.5% | Won | 1 | 0.0072 |
| 2016 | General | UT | President | Clinton | 6.5% | Lost | 0 | 0.0042 |
| 2016 | General | UT | President | OTHER | 6.5% | Lost | 0 | 0.0042 |
| 2016 | General | UT | President | Trump | 87.0% | Won | 1 | 0.0169 |
| 2016 | General | VA | President | Clinton | 86.7% | Won | 1 | 0.0177 |
| 2016 | General | VA | President | Trump | 13.3% | Lost | 0 | 0.0177 |
| 2016 | General | VT | President | Clinton | 96.5% | Won | 1 | 0.0012 |
| 2016 | General | VT | President | Trump | 3.5% | Lost | 0 | 0.0012 |
| 2016 | General | WA | President | Clinton | 95.0% | Won | 1 | 0.0025 |
| 2016 | General | WA | President | Trump | 5.0% | Lost | 0 | 0.0025 |
| 2016 | General | WI | President | Clinton | 87.5% | Lost | 0 | 0.7656 |
| 2016 | General | WI | President | Trump | 12.5% | Won | 1 | 0.7656 |
| 2016 | General | WI | Senate | Democrat | 82.5% | Lost | 0 | 0.6806 |
| 2016 | General | WI | Senate | Republican | 13.5% | Won | 1 | 0.7482 |
| 2016 | General | WV | President | Clinton | 2.5% | Lost | 0 | 0.0006 |
| 2016 | General | WV | President | Trump | 97.5% | Won | 1 | 0.0006 |
| 2016 | General | WY | President | Clinton | 2.5% | Lost | 0 | 0.0006 |
| 2016 | General | WY | President | Trump | 97.5% | Won | 1 | 0.0006 |
| 2016 | PM | Intl. | France | Le Pen Final | 6.2% | Lost | 0 | 0.0038 |
| 2016 | PM | Intl. | France | Macron Final | 93.9% | Won | 1 | 0.0037 |
| 2016 | President | Intl. | Austria | Bellen | 28.4% | Won | 1 | 0.5127 |
| 2016 | President | Intl. | Austria | Hofer | 71.9% | Lost | 0 | 0.5170 |
| 2016 | Primary | AL | President | Carson | 0.3% | Lost | 0 | 0.0000 |
| 2016 | Primary | AL | President | Clinton | 99.4% | Won | 1 | 0.0000 |
| 2016 | Primary | AL | President | Cruz | 0.3% | Lost | 0 | 0.0000 |
| 2016 | Primary | AL | President | Kasich | 0.3% | Lost | 0 | 0.0000 |
| 2016 | Primary | AL | President | Rubio | 1.3% | Lost | 0 | 0.0002 |
| 2016 | Primary | AL | President | Sanders | 1.0% | Lost | 0 | 0.0001 |
| 2016 | Primary | AL | President | Trump | 98.8% | Won | 1 | 0.0001 |
| 2016 | Primary | AR | President | Carson | 2.6% | Lost | 0 | 0.0007 |
| 2016 | Primary | AR | President | Clinton | 49.3% | Won | 1 | 0.2570 |
| 2016 | Primary | AR | President | Cruz | 10.3% | Lost | 0 | 0.0106 |
| 2016 | Primary | AR | President | Kasich | 0.9% | Lost | 0 | 0.0001 |
| 2016 | Primary | AR | President | Rubio | 2.3% | Lost | 0 | 0.0005 |
| 2016 | Primary | AR | President | Sanders | 50.7% | Lost | 0 | 0.2570 |
| 2016 | Primary | AR | President | Trump | 86.0% | Won | 1 | 0.0196 |
| 2016 | Primary | AZ | President | Clinton | 83.9% | Won | 1 | 0.0259 |
| 2016 | Primary | AZ | President | Cruz | 11.9% | Lost | 0 | 0.0142 |
| 2016 | Primary | AZ | President | Kasich | 0.7% | Lost | 0 | 0.0000 |
| 2016 | Primary | AZ | President | Sanders | 16.1% | Lost | 0 | 0.0259 |
| 2016 | Primary | AZ | President | Trump | 87.4% | Won | 1 | 0.0159 |
| 2016 | Primary | CA | President | Clinton | 74.8% | Won | 1 | 0.0635 |
| 2016 | Primary | CA | President | Cruz | 0.1% | Lost | 0 | 0.0000 |
| 2016 | Primary | CA | President | Kasich | 0.1% | Lost | 0 | 0.0000 |
| 2016 | Primary | CA | President | Sanders | 25.1% | Lost | 0 | 0.0630 |
| 2016 | Primary | CA | President | Trump | 99.9% | Won | 1 | 0.0000 |
| 2016 | Primary | CT | President | Clinton | 81.4% | Won | 1 | 0.0346 |
| 2016 | Primary | CT | President | Cruz | 0.3% | Lost | 0 | 0.0000 |
| 2016 | Primary | CT | President | Kasich | 1.1% | Lost | 0 | 0.0001 |
| 2016 | Primary | CT | President | Sanders | 18.6% | Lost | 0 | 0.0346 |
| 2016 | Primary | CT | President | Trump | 98.6% | Won | 1 | 0.0002 |
| 2016 | Primary | DC | President | Cruz | 10.5% | Lost | 0 | 0.0110 |
| 2016 | Primary | DC | President | Kasich | 24.9% | Lost | 0 | 0.0620 |
| 2016 | Primary | DC | President | Rubio | 35.4% | Won | 1 | 0.4173 |
| 2016 | Primary | DC | President | Trump | 29.2% | Lost | 0 | 0.0853 |
| 2016 | Primary | DE | President | Clinton | 96.4% | Won | 1 | 0.0013 |
| 2016 | Primary | DE | President | Cruz | 1.4% | Lost | 0 | 0.0002 |
| 2016 | Primary | DE | President | Kasich | 1.5% | Lost | 0 | 0.0002 |
| 2016 | Primary | DE | President | Sanders | 3.6% | Lost | 0 | 0.0013 |
| 2016 | Primary | DE | President | Trump | 97.1% | Won | 1 | 0.0008 |
| 2016 | Primary | FL | President | Clinton | 91.5% | Won | 1 | 0.0072 |
| 2016 | Primary | FL | President | Cruz | 1.9% | Lost | 0 | 0.0004 |
| 2016 | Primary | FL | President | Rubio | 9.2% | Lost | 0 | 0.0085 |
| 2016 | Primary | FL | President | Sanders | 8.4% | Lost | 0 | 0.0071 |
| 2016 | Primary | FL | President | Trump | 88.8% | Won | 1 | 0.0125 |
| 2016 | Primary | GA | President | Carson | 1.1% | Lost | 0 | 0.0001 |
| 2016 | Primary | GA | President | Clinton | 99.4% | Won | 1 | 0.0000 |
| 2016 | Primary | GA | President | Cruz | 2.1% | Lost | 0 | 0.0004 |
| 2016 | Primary | GA | President | Kasich | 0.9% | Lost | 0 | 0.0001 |
| 2016 | Primary | GA | President | Rubio | 2.1% | Lost | 0 | 0.0004 |
| 2016 | Primary | GA | President | Sanders | 0.5% | Lost | 0 | 0.0000 |
| 2016 | Primary | GA | President | Trump | 95.3% | Won | 1 | 0.0022 |
| 2016 | Primary | HI | President | Cruz | 20.0% | Lost | 0 | 0.0400 |
| 2016 | Primary | HI | President | Kasich | 4.2% | Lost | 0 | 0.0018 |
| 2016 | Primary | HI | President | Rubio | 45.6% | Lost | 0 | 0.2079 |
| 2016 | Primary | HI | President | Trump | 30.2% | Won | 1 | 0.4872 |
| 2016 | Primary | IA | President | Carson | 0.2% | Lost | 0 | 0.0000 |
| 2016 | Primary | IA | President | Christie | 0.2% | Lost | 0 | 0.0000 |
| 2016 | Primary | IA | President | Clinton | 72.4% | Won | 1 | 0.0762 |
| 2016 | Primary | IA | President | Cruz | 30.0% | Won | 1 | 0.4900 |
| 2016 | Primary | IA | President | Fiorina | 0.2% | Lost | 0 | 0.0000 |
| 2016 | Primary | IA | President | OMalley | 0.3% | Lost | 0 | 0.0000 |
| 2016 | Primary | IA | President | Rubio | 6.7% | Lost | 0 | 0.0045 |
| 2016 | Primary | IA | President | Sanders | 27.3% | Lost | 0 | 0.0745 |
| 2016 | Primary | IA | President | Trump | 62.8% | Lost | 0 | 0.3944 |
| 2016 | Primary | ID | President | Cruz | 64.1% | Won | 1 | 0.1289 |
| 2016 | Primary | ID | President | Rubio | 2.7% | Lost | 0 | 0.0007 |
| 2016 | Primary | ID | President | Trump | 33.2% | Lost | 0 | 0.1102 |
| 2016 | Primary | IL | President | Clinton | 51.7% | Won | 1 | 0.2333 |
| 2016 | Primary | IL | President | Cruz | 30.9% | Lost | 0 | 0.0955 |
| 2016 | Primary | IL | President | Kasich | 2.4% | Lost | 0 | 0.0006 |
| 2016 | Primary | IL | President | Sanders | 48.2% | Lost | 0 | 0.2323 |
| 2016 | Primary | IL | President | Trump | 66.6% | Won | 1 | 0.1116 |
| 2016 | Primary | IN | President | Clinton | 77.9% | Lost | 0 | 0.6068 |
| 2016 | Primary | IN | President | Cruz | 5.5% | Lost | 0 | 0.0030 |
| 2016 | Primary | IN | President | Kasich | 0.1% | Lost | 0 | 0.0000 |
| 2016 | Primary | IN | President | Sanders | 22.0% | Won | 1 | 0.6084 |
| 2016 | Primary | IN | President | Trump | 94.4% | Won | 1 | 0.0031 |
| 2016 | Primary | KS | President | Clinton | 21.5% | Lost | 0 | 0.0462 |
| 2016 | Primary | KS | President | Cruz | 57.0% | Won | 1 | 0.1849 |
| 2016 | Primary | KS | President | Rubio | 5.2% | Lost | 0 | 0.0027 |
| 2016 | Primary | KS | President | Sanders | 78.5% | Won | 1 | 0.0462 |
| 2016 | Primary | KS | President | Trump | 37.7% | Lost | 0 | 0.1421 |
| 2016 | Primary | KY | President | Cruz | 22.9% | Lost | 0 | 0.0524 |
| 2016 | Primary | KY | President | Rubio | 6.9% | Lost | 0 | 0.0048 |
| 2016 | Primary | KY | President | Trump | 70.1% | Won | 1 | 0.0894 |
| 2016 | Primary | LA | President | Clinton | 99.9% | Won | 1 | 0.0000 |
| 2016 | Primary | LA | President | Cruz | 11.9% | Lost | 0 | 0.0142 |
| 2016 | Primary | LA | President | Sanders | 0.1% | Lost | 0 | 0.0000 |
| 2016 | Primary | LA | President | Trump | 88.0% | Won | 1 | 0.0144 |
| 2016 | Primary | MA | President | Carson | 0.9% | Lost | 0 | 0.0001 |
| 2016 | Primary | MA | President | Clinton | 91.7% | Won | 1 | 0.0069 |
| 2016 | Primary | MA | President | Cruz | 0.9% | Lost | 0 | 0.0001 |
| 2016 | Primary | MA | President | Kasich | 0.9% | Lost | 0 | 0.0001 |
| 2016 | Primary | MA | President | Rubio | 1.6% | Lost | 0 | 0.0003 |
| 2016 | Primary | MA | President | Sanders | 8.5% | Lost | 0 | 0.0072 |
| 2016 | Primary | MA | President | Trump | 96.6% | Won | 1 | 0.0012 |
| 2016 | Primary | MD | President | Clinton | 97.5% | Won | 1 | 0.0006 |
| 2016 | Primary | MD | President | Cruz | 2.2% | Lost | 0 | 0.0005 |
| 2016 | Primary | MD | President | Kasich | 3.5% | Lost | 0 | 0.0012 |
| 2016 | Primary | MD | President | Sanders | 2.4% | Lost | 0 | 0.0006 |
| 2016 | Primary | MD | President | Trump | 94.3% | Won | 1 | 0.0032 |
| 2016 | Primary | ME | President | (Clinton | 16.1% | Lost | 0 | 0.0259 |
| 2016 | Primary | ME | President | Cruz | 6.4% | Won | 1 | 0.8761 |
| 2016 | Primary | ME | President | Kasich | 13.7% | Lost | 0 | 0.0188 |
| 2016 | Primary | ME | President | Rubio | 2.7% | Lost | 0 | 0.0007 |
| 2016 | Primary | ME | President | Sanders | 83.8% | Won | 1 | 0.0262 |
| 2016 | Primary | ME | President | Trump | 77.1% | Lost | 0 | 0.5944 |
| 2016 | Primary | MI | President | Clinton | 91.5% | Lost | 0 | 0.8372 |
| 2016 | Primary | MI | President | Cruz | 4.3% | Lost | 0 | 0.0018 |
| 2016 | Primary | MI | President | Kasich | 8.2% | Lost | 0 | 0.0067 |
| 2016 | Primary | MI | President | Sanders | 8.4% | Won | 1 | 0.8391 |
| 2016 | Primary | MI | President | Trump | 87.4% | Won | 1 | 0.0159 |
| 2016 | Primary | MN | President | Carson | 1.2% | Lost | 0 | 0.0001 |
| 2016 | Primary | MN | President | Clinton | 75.1% | Lost | 0 | 0.5640 |
| 2016 | Primary | MN | President | Cruz | 5.7% | Lost | 0 | 0.0032 |
| 2016 | Primary | MN | President | Kasich | 1.2% | Lost | 0 | 0.0001 |
| 2016 | Primary | MN | President | Rubio | 29.4% | Won | 1 | 0.4984 |
| 2016 | Primary | MN | President | Sanders | 24.9% | Won | 1 | 0.5640 |
| 2016 | Primary | MN | President | Trump | 62.5% | Lost | 0 | 0.3906 |
| 2016 | Primary | MO | President | Clinton | 31.8% | Won | 1 | 0.4651 |
| 2016 | Primary | MO | President | Cruz | 46.0% | Lost | 0 | 0.2116 |
| 2016 | Primary | MO | President | Sanders | 68.1% | Lost | 0 | 0.4638 |
| 2016 | Primary | MO | President | Trump | 53.9% | Won | 1 | 0.2125 |
| 2016 | Primary | MS | President | Clinton | 99.9% | Won | 1 | 0.0000 |
| 2016 | Primary | MS | President | Cruz | 11.4% | Lost | 0 | 0.0130 |
| 2016 | Primary | MS | President | Sanders | 0.1% | Lost | 0 | 0.0000 |
| 2016 | Primary | MS | President | Trump | 88.5% | Won | 1 | 0.0132 |
| 2016 | Primary | NC | President | Clinton | 90.1% | Won | 1 | 0.0098 |
| 2016 | Primary | NC | President | Cruz | 14.4% | Lost | 0 | 0.0207 |
| 2016 | Primary | NC | President | Sanders | 9.8% | Lost | 0 | 0.0096 |
| 2016 | Primary | NC | President | Trump | 85.5% | Won | 1 | 0.0210 |
| 2016 | Primary | NE | President | Cruz | 2.1% | Lost | 0 | 0.0004 |
| 2016 | Primary | NE | President | Kasich | 1.4% | Lost | 0 | 0.0002 |
| 2016 | Primary | NE | President | Trump | 96.4% | Won | 1 | 0.0013 |
| 2016 | Primary | NH | President | Bush | 3.2% | Lost | 0 | 0.0010 |
| 2016 | Primary | NH | President | Carson | 0.1% | Lost | 0 | 0.0000 |
| 2016 | Primary | NH | President | Christie | 0.9% | Lost | 0 | 0.0001 |
| 2016 | Primary | NH | President | Clinton | 2.6% | Lost | 0 | 0.0007 |
| 2016 | Primary | NH | President | Cruz | 2.2% | Lost | 0 | 0.0005 |
| 2016 | Primary | NH | President | Fiorina | 0.1% | Lost | 0 | 0.0000 |
| 2016 | Primary | NH | President | Kasich | 6.7% | Lost | 0 | 0.0045 |
| 2016 | Primary | NH | President | OMalley | 0.5% | Lost | 0 | 0.0000 |
| 2016 | Primary | NH | President | Rubio | 4.7% | Lost | 0 | 0.0022 |
| 2016 | Primary | NH | President | Sanders | 96.9% | Won | 1 | 0.0010 |
| 2016 | Primary | NH | President | Trump | 82.2% | Won | 1 | 0.0317 |
| 2016 | Primary | NV | President | Carson | 0.3% | Lost | 0 | 0.0000 |
| 2016 | Primary | NV | President | Cruz | 0.9% | Lost | 0 | 0.0001 |
| 2016 | Primary | NV | President | Rubio | 8.8% | Lost | 0 | 0.0077 |
| 2016 | Primary | NV | President | Trump | 90.1% | Won | 1 | 0.0098 |
| 2016 | Primary | NY | President | Clinton | 89.6% | Won | 1 | 0.0108 |
| 2016 | Primary | NY | President | Cruz | 0.1% | Lost | 0 | 0.0000 |
| 2016 | Primary | NY | President | Kasich | 0.1% | Lost | 0 | 0.0000 |
| 2016 | Primary | NY | President | Sanders | 10.4% | Lost | 0 | 0.0108 |
| 2016 | Primary | NY | President | Trump | 99.9% | Won | 1 | 0.0000 |
| 2016 | Primary | OH | President | Clinton | 61.8% | Won | 1 | 0.1459 |
| 2016 | Primary | OH | President | Cruz | 1.9% | Lost | 0 | 0.0004 |
| 2016 | Primary | OH | President | Kasich | 70.8% | Won | 1 | 0.0853 |
| 2016 | Primary | OH | President | Sanders | 38.1% | Lost | 0 | 0.1452 |
| 2016 | Primary | OH | President | Trump | 27.2% | Lost | 0 | 0.0740 |
| 2016 | Primary | OK | President | Carson | 0.2% | Lost | 0 | 0.0000 |
| 2016 | Primary | OK | President | Clinton | 58.6% | Lost | 0 | 0.3434 |
| 2016 | Primary | OK | President | Cruz | 4.7% | Won | 1 | 0.9082 |
| 2016 | Primary | OK | President | Kasich | 0.2% | Lost | 0 | 0.0000 |
| 2016 | Primary | OK | President | Rubio | 7.0% | Lost | 0 | 0.0049 |
| 2016 | Primary | OK | President | Sanders | 41.4% | Won | 1 | 0.3434 |
| 2016 | Primary | OK | President | Trump | 87.8% | Lost | 0 | 0.7709 |
| 2016 | Primary | OR | President | Clinton | 19.8% | Lost | 0 | 0.0392 |
| 2016 | Primary | OR | President | Cruz | 0.2% | Lost | 0 | 0.0000 |
| 2016 | Primary | OR | President | Kasich | 0.1% | Lost | 0 | 0.0000 |
| 2016 | Primary | OR | President | Sanders | 80.2% | Won | 1 | 0.0392 |
| 2016 | Primary | OR | President | Trump | 99.6% | Won | 1 | 0.0000 |
| 2016 | Primary | PA | President | Clinton | 94.6% | Won | 1 | 0.0029 |
| 2016 | Primary | PA | President | Cruz | 3.0% | Lost | 0 | 0.0009 |
| 2016 | Primary | PA | President | Kasich | 3.1% | Lost | 0 | 0.0010 |
| 2016 | Primary | PA | President | Sanders | 5.4% | Lost | 0 | 0.0029 |
| 2016 | Primary | PA | President | Trump | 93.9% | Won | 1 | 0.0037 |
| 2016 | Primary | PR | President | Cruz | 14.7% | Lost | 0 | 0.0216 |
| 2016 | Primary | PR | President | Rubio | 73.9% | Won | 1 | 0.0681 |
| 2016 | Primary | PR | President | Trump | 11.4% | Lost | 0 | 0.0130 |
| 2016 | Primary | RI | President | Clinton | 57.7% | Lost | 0 | 0.3329 |
| 2016 | Primary | RI | President | Cruz | 0.5% | Lost | 0 | 0.0000 |
| 2016 | Primary | RI | President | Kasich | 1.7% | Lost | 0 | 0.0003 |
| 2016 | Primary | RI | President | Sanders | 42.2% | Won | 1 | 0.3341 |
| 2016 | Primary | RI | President | Trump | 97.8% | Won | 1 | 0.0005 |
| 2016 | Primary | SC | President | Bush | 0.9% | Lost | 0 | 0.0001 |
| 2016 | Primary | SC | President | Carson | 0.9% | Lost | 0 | 0.0001 |
| 2016 | Primary | SC | President | Clinton | 98.7% | Won | 1 | 0.0002 |
| 2016 | Primary | SC | President | Cruz | 2.1% | Lost | 0 | 0.0004 |
| 2016 | Primary | SC | President | Kasich | 0.3% | Lost | 0 | 0.0000 |
| 2016 | Primary | SC | President | Rubio | 7.4% | Lost | 0 | 0.0055 |
| 2016 | Primary | SC | President | Sanders | 1.3% | Lost | 0 | 0.0002 |
| 2016 | Primary | SC | President | Trump | 88.5% | Won | 1 | 0.0132 |
| 2016 | Primary | TN | President | Carson | 0.2% | Lost | 0 | 0.0000 |
| 2016 | Primary | TN | President | Clinton | 98.7% | Won | 1 | 0.0002 |
| 2016 | Primary | TN | President | Cruz | 2.1% | Lost | 0 | 0.0004 |
| 2016 | Primary | TN | President | Kasich | 2.6% | Lost | 0 | 0.0007 |
| 2016 | Primary | TN | President | Rubio | 1.2% | Lost | 0 | 0.0001 |
| 2016 | Primary | TN | President | Sanders | 1.2% | Lost | 0 | 0.0001 |
| 2016 | Primary | TN | President | Trump | 93.8% | Won | 1 | 0.0038 |
| 2016 | Primary | TX | President | Carson | 0.4% | Lost | 0 | 0.0000 |
| 2016 | Primary | TX | President | Clinton | 99.2% | Won | 1 | 0.0001 |
| 2016 | Primary | TX | President | Cruz | 87.9% | Won | 1 | 0.0146 |
| 2016 | Primary | TX | President | Kasich | 0.4% | Lost | 0 | 0.0000 |
| 2016 | Primary | TX | President | Rubio | 1.0% | Lost | 0 | 0.0001 |
| 2016 | Primary | TX | President | Sanders | 0.8% | Lost | 0 | 0.0001 |
| 2016 | Primary | TX | President | Trump | 12.3% | Lost | 0 | 0.0151 |
| 2016 | Primary | UT | President | Clinton | 15.9% | Lost | 0 | 0.0253 |
| 2016 | Primary | UT | President | Cruz | 94.1% | Won | 1 | 0.0035 |
| 2016 | Primary | UT | President | Kasich | 2.7% | Lost | 0 | 0.0007 |
| 2016 | Primary | UT | President | Sanders | 84.1% | Won | 1 | 0.0253 |
| 2016 | Primary | UT | President | Trump | 3.2% | Lost | 0 | 0.0010 |
| 2016 | Primary | VA | President | Carson | 0.6% | Lost | 0 | 0.0000 |
| 2016 | Primary | VA | President | Clinton | 99.2% | Won | 1 | 0.0001 |
| 2016 | Primary | VA | President | Cruz | 0.6% | Lost | 0 | 0.0000 |
| 2016 | Primary | VA | President | Kasich | 0.7% | Lost | 0 | 0.0000 |
| 2016 | Primary | VA | President | Rubio | 4.8% | Lost | 0 | 0.0023 |
| 2016 | Primary | VA | President | Sanders | 0.8% | Lost | 0 | 0.0001 |
| 2016 | Primary | VA | President | Trump | 93.9% | Won | 1 | 0.0037 |
| 2016 | Primary | WA | President | Cruz | 0.1% | Lost | 0 | 0.0000 |
| 2016 | Primary | WA | President | Kasich | 0.1% | Lost | 0 | 0.0000 |
| 2016 | Primary | WA | President | Trump | 99.9% | Won | 1 | 0.0000 |
| 2016 | Primary | WI | President | Clinton | 13.1% | Lost | 0 | 0.0172 |
| 2016 | Primary | WI | President | Cruz | 79.6% | Won | 1 | 0.0416 |
| 2016 | Primary | WI | President | Kasich | 1.0% | Lost | 0 | 0.0001 |
| 2016 | Primary | WI | President | Sanders | 86.9% | Won | 1 | 0.0172 |
| 2016 | Primary | WI | President | Trump | 19.4% | Lost | 0 | 0.0376 |
| 2016 | Primary | WV | President | Clinton | 12.4% | Lost | 0 | 0.0154 |
| 2016 | Primary | WV | President | Cruz | 0.1% | Lost | 0 | 0.0000 |
| 2016 | Primary | WV | President | Kasich | 0.1% | Lost | 0 | 0.0000 |
| 2016 | Primary | WV | President | Sanders | 87.6% | Won | 1 | 0.0154 |
| 2016 | Primary | WV | President | Trump | 99.9% | Won | 1 | 0.0000 |
| 2017 | General | VA | Governor | Democrat | 38.2% | Lost | 0 | 0.1459 |
| 2017 | General | VA | Governor | Democrat | 61.7% | Won | 1 | 0.1467 |
| 2017 | Most Seats | Intl. | UK | Conservative | 94.8% | Won | 1 | 0.0027 |
| 2017 | Most Seats | Intl. | UK | Labour | 5.6% | Lost | 0 | 0.0031 |
| 2017 | Most Seats | Intl. | UK | Liberal | 0.1% | Lost | 0 | 0.0000 |
| 2017 | PM | Intl. | Germany | Merkel | 96.6% | Won | 1 | 0.0012 |
| 2017 | PM | Intl. | Germany | Scholz | 3.0% | Lost | 0 | 0.0009 |
| 2017 | PM | Intl. | Netherlands | Pechtold | 0.5% | Lost | 0 | 0.0000 |
| 2017 | PM | Intl. | Netherlands | Rutte | 73.5% | Won | 1 | 0.0702 |
| 2017 | PM | Intl. | Netherlands | Wilders | 13.4% | Lost | 0 | 0.0179 |
| 2017 | PM | Intl. | UK | Corbyn | 12.7% | Lost | 0 | 0.0161 |
| 2017 | PM | Intl. | UK | Davis | 0.4% | Lost | 0 | 0.0000 |
| 2017 | PM | Intl. | UK | Farrage | 0.1% | Lost | 0 | 0.0000 |
| 2017 | PM | Intl. | UK | Farron | 7.0% | Lost | 0 | 0.0049 |
| 2017 | PM | Intl. | UK | Johnson | 0.1% | Lost | 0 | 0.0000 |
| 2017 | PM | Intl. | UK | May | 86.2% | Won | 1 | 0.0190 |
| 2017 | Special | MS | Senate | Jones (Dem) | 33.5% | Won | 1 | 0.4422 |
| 2017 | Special | MS | Senate | Moore (Rep) | 70.5% | Lost | 0 | 0.4970 |
| 2018 | General | AZ | Governor | Democrat | 5.0% | Lost | 0 | 0.0025 |
| 2018 | General | AZ | Governor | Republican | 95.0% | Won | 1 | 0.0025 |
| 2018 | General | CT | Governor | Democrat | 73.0% | Won | 1 | 0.0729 |
| 2018 | General | CT | Governor | Republican | 27.0% | Lost | 0 | 0.0729 |
| 2018 | General | FL | Governor | Democrat | 61.6% | Lost | 0 | 0.3795 |
| 2018 | General | FL | Governor | Republican | 38.4% | Won | 1 | 0.3795 |
| 2018 | General | FL | Senate | Democrat | 62.5% | Lost | 0 | 0.3906 |
| 2018 | General | FL | Senate | Republican | 37.5% | Won | 1 | 0.3906 |
| 2018 | General | GA | Governor | Democrat | 34.8% | Lost | 0 | 0.1211 |
| 2018 | General | GA | Governor | Republican | 65.2% | Won | 1 | 0.1211 |
| 2018 | General | IA | Governor | Democrat | 66.4% | Lost | 0 | 0.4409 |
| 2018 | General | IA | Governor | Republican | 33.6% | Won | 1 | 0.4409 |
| 2018 | General | IL | Governor | Democrat | 93.1% | Won | 1 | 0.0048 |
| 2018 | General | IL | Governor | Republican | 6.9% | Lost | 0 | 0.0048 |
| 2018 | General | IN | Senate | Democrat | 51.5% | Lost | 0 | 0.2652 |
| 2018 | General | IN | Senate | Republican | 48.5% | Won | 1 | 0.2652 |
| 2018 | General | KS | Governor | Democrat | 43.0% | Won | 1 | 0.3249 |
| 2018 | General | KS | Governor | Republican | 55.5% | Lost | 0 | 0.3080 |
| 2018 | General | MA | Senate | Democrat | 96.5% | Won | 1 | 0.0012 |
| 2018 | General | MA | Senate | Republican | 3.5% | Lost | 0 | 0.0012 |
| 2018 | General | MD | Governor | Democrat | 7.9% | Lost | 0 | 0.0062 |
| 2018 | General | MD | Governor | Republican | 92.1% | Won | 1 | 0.0062 |
| 2018 | General | ME | Governor | Democrat | 85.5% | Won | 1 | 0.0210 |
| 2018 | General | ME | Governor | Republican | 14.5% | Lost | 0 | 0.0210 |
| 2018 | General | ME | Senate | Democrat | 95.5% | Won | 1 | 0.0020 |
| 2018 | General | ME | Senate | Republican | 4.5% | Lost | 0 | 0.0020 |
| 2018 | General | MI | Governor | Democrat | 84.6% | Won | 1 | 0.0237 |
| 2018 | General | MI | Governor | Republican | 15.4% | Lost | 0 | 0.0237 |
| 2018 | General | MI | Senate | Democrat | 81.0% | Won | 1 | 0.0361 |
| 2018 | General | MI | Senate | Republican | 19.0% | Lost | 0 | 0.0361 |
| 2018 | General | MN | Governor | Democrat | 81.1% | Won | 1 | 0.0357 |
| 2018 | General | MN | Governor | Republican | 18.9% | Lost | 0 | 0.0357 |
| 2018 | General | MN | Senate | Democrat | 90.5% | Won | 1 | 0.0090 |
| 2018 | General | MN | Senate | Republican | 9.5% | Lost | 0 | 0.0090 |
| 2018 | General | MO | Senate | Democrat | 39.0% | Lost | 0 | 0.1521 |
| 2018 | General | MO | Senate | Republican | 61.0% | Won | 1 | 0.1521 |
| 2018 | General | MT | Senate | Democrat | 64.5% | Won | 1 | 0.1260 |
| 2018 | General | MT | Senate | Republican | 35.5% | Lost | 0 | 0.1260 |
| 2018 | General | National | House | DEM House Control | 68.0% | Won | 1 | 0.1024 |
| 2018 | General | National | House | REP House Control | 31.9% | Lost | 0 | 0.1018 |
| 2018 | General | National | Senate | DEM Senate Control | 16.0% | Lost | 0 | 0.0256 |
| 2018 | General | National | Senate | REP Senate Control | 83.9% | Won | 1 | 0.0259 |
| 2018 | General | NE | Senate | Democrat | 3.5% | Lost | 0 | 0.0012 |
| 2018 | General | NE | Senate | Republican | 96.5% | Won | 1 | 0.0012 |
| 2018 | General | NH | Governor | Democrat | 19.6% | Lost | 0 | 0.0384 |
| 2018 | General | NH | Governor | Republican | 80.4% | Won | 1 | 0.0384 |
| 2018 | General | NJ | Senate | Democrat | 83.0% | Won | 1 | 0.0289 |
| 2018 | General | NJ | Senate | Republican | 17.0% | Lost | 0 | 0.0289 |
| 2018 | General | NM | Governor | Democrat | 88.4% | Won | 1 | 0.0135 |
| 2018 | General | NM | Governor | Republican | 11.6% | Lost | 0 | 0.0135 |
| 2018 | General | NM | Senate | Democrat | 96.5% | Won | 1 | 0.0012 |
| 2018 | General | NM | Senate | Republican | 3.5% | Lost | 0 | 0.0012 |
| 2018 | General | NV | Governor | Democrat | 60.2% | Won | 1 | 0.1584 |
| 2018 | General | NV | Governor | Republican | 39.8% | Lost | 0 | 0.1584 |
| 2018 | General | NV | Senate | Democrat | 62.5% | Won | 1 | 0.1406 |
| 2018 | General | NV | Senate | Republican | 37.5% | Lost | 0 | 0.1406 |
| 2018 | General | OH | Governor | Democrat | 59.2% | Lost | 0 | 0.3505 |
| 2018 | General | OH | Governor | Republican | 40.8% | Won | 1 | 0.3505 |
| 2018 | General | OH | Senate | Democrat | 88.5% | Won | 1 | 0.0132 |
| 2018 | General | OH | Senate | Republican | 11.5% | Lost | 0 | 0.0132 |
| 2018 | General | OK | Governor | Democrat | 31.5% | Lost | 0 | 0.0992 |
| 2018 | General | OK | Governor | Republican | 68.5% | Won | 1 | 0.0992 |
| 2018 | General | OR | Governor | Democrat | 78.9% | Won | 1 | 0.0445 |
| 2018 | General | OR | Governor | Republican | 21.1% | Lost | 0 | 0.0445 |
| 2018 | General | PA | Governor | Democrat | 95.5% | Won | 1 | 0.0020 |
| 2018 | General | PA | Governor | Republican | 4.5% | Lost | 0 | 0.0020 |
| 2018 | General | PA | Senate | Democrat | 92.0% | Won | 1 | 0.0064 |
| 2018 | General | PA | Senate | Republican | 8.0% | Lost | 0 | 0.0064 |
| 2018 | General | RI | Governor | Democrat | 98.0% | Won | 1 | 0.0004 |
| 2018 | General | RI | Governor | Republican | 2.0% | Lost | 0 | 0.0004 |
| 2018 | General | SC | Governor | Democrat | 4.0% | Lost | 0 | 0.0016 |
| 2018 | General | SC | Governor | Republican | 95.6% | Won | 1 | 0.0019 |
| 2018 | General | TN | Governor | Democrat | 5.0% | Lost | 0 | 0.0025 |
| 2018 | General | TN | Governor | Republican | 94.0% | Won | 1 | 0.0036 |
| 2018 | General | TN | Senate | Democrat | 22.0% | Lost | 0 | 0.0484 |
| 2018 | General | TN | Senate | Republican | 78.0% | Won | 1 | 0.0484 |
| 2018 | General | TX | Senate | Democrat | 20.5% | Lost | 0 | 0.0420 |
| 2018 | General | TX | Senate | Republican | 79.5% | Won | 1 | 0.0420 |
| 2018 | General | VA | Senate | Democrat | 93.0% | Won | 1 | 0.0049 |
| 2018 | General | VA | Senate | Republican | 6.0% | Lost | 0 | 0.0036 |
| 2018 | General | VT | Senate | Democrat | 99.0% | Won | 1 | 0.0001 |
| 2018 | General | VT | Senate | Republican | 1.0% | Lost | 0 | 0.0001 |
| 2018 | General | WI | Governor | Democrat | 61.4% | Won | 1 | 0.1490 |
| 2018 | General | WI | Governor | Republican | 38.6% | Lost | 0 | 0.1490 |
| 2018 | General | WI | Senate | Democrat | 92.5% | Won | 1 | 0.0056 |
| 2018 | General | WI | Senate | Republican | 7.5% | Lost | 0 | 0.0056 |
| 2018 | General | WV | Senate | Democrat | 79.5% | Won | 1 | 0.0420 |
| 2018 | General | WV | Senate | Republican | 20.5% | Lost | 0 | 0.0420 |
| 2018 | Special | MS | Senate | Democrat | 1.0% | Lost | 0 | 0.0001 |
| 2018 | Special | MS | Senate | Republican | 99.0% | Won | 1 | 0.0001 |
| 2018 | Special | OH | House | Democrat | 49.5% | Lost | 0 | 0.2450 |
| 2018 | Special | OH | House | Republican | 50.5% | Won | 1 | 0.2450 |
| 2018 | Special | PA | House | Democrat | 62.9% | Won | 1 | 0.1376 |
| 2018 | Special | PA | House | Republican | 37.1% | Lost | 0 | 0.1376 |
| 2019 | Intl. | Intl. | Canada | Scheer PM | 29.5% | Lost | 0 | 0.0870 |
| 2019 | Intl. | Intl. | Canada | Trudeau PM | 69.5% | Won | 1 | 0.0930 |
| 2019 | Intl. | Intl. | UK | Cons/Brexit Party Coalition | 2.5% | Lost | 0 | 0.0006 |
| 2019 | Intl. | Intl. | UK | Cons/Lib Dem coalition | 1.1% | Lost | 0 | 0.0001 |
| 2019 | Intl. | Intl. | UK | Conservatives Majority | 64.4% | Won | 1 | 0.1267 |
| 2019 | Intl. | Intl. | UK | Conservatives Minority | 7.2% | Lost | 0 | 0.0052 |
| 2019 | Intl. | Intl. | UK | Lab/LD/SNP Coalition | 2.7% | Lost | 0 | 0.0007 |
| 2019 | Intl. | Intl. | UK | Lab/Lib Dem coalition | 1.3% | Lost | 0 | 0.0002 |
| 2019 | Intl. | Intl. | UK | Lab/SNP Coalition | 3.2% | Lost | 0 | 0.0010 |
| 2019 | Intl. | Intl. | UK | Labour Majority | 2.3% | Lost | 0 | 0.0005 |
| 2019 | Intl. | Intl. | UK | Labour Minority | 15.3% | Lost | 0 | 0.0234 |
| 2019 | Special | KY | Governor | Dem | 31.7% | Won | 1 | 0.4665 |
| 2019 | Special | KY | Governor | Rep | 68.2% | Lost | 0 | 0.4651 |
| 2019 | Special | LA | Governor | Dem | 51.9% | Won | 1 | 0.2314 |
| 2019 | Special | LA | Governor | Rep | 48.0% | Lost | 0 | 0.2304 |
| 2020 | General | AK | Presidency | Biden | 9.4% | Lost | 0 | 0.0088 |
| 2020 | General | AK | Presidency | Trump | 90.6% | Won | 1 | 0.0088 |
| 2020 | General | AK | Senate | Democrat | 17.2% | Lost | 0 | 0.0296 |
| 2020 | General | AK | Senate | Republican | 92.8% | Won | 1 | 0.0052 |
| 2020 | General | AL | Presidency | Biden | 3.5% | Lost | 0 | 0.0012 |
| 2020 | General | AL | Presidency | Trump | 96.5% | Won | 1 | 0.0012 |
| 2020 | General | AL | Senate | Democrat | 7.4% | Lost | 0 | 0.0055 |
| 2020 | General | AL | Senate | Republican | 92.6% | Won | 1 | 0.0055 |
| 2020 | General | AR | Presidency | Biden | 2.5% | Lost | 0 | 0.0006 |
| 2020 | General | AR | Presidency | Trump | 97.5% | Won | 1 | 0.0006 |
| 2020 | General | AR | Senate | Democrat | 1.0% | Lost | 0 | 0.0001 |
| 2020 | General | AR | Senate | Republican | 99.0% | Won | 1 | 0.0001 |
| 2020 | General | AZ | Presidency | Biden | 51.2% | Won | 1 | 0.2381 |
| 2020 | General | AZ | Presidency | Trump | 48.8% | Lost | 0 | 0.2381 |
| 2020 | General | AZ | Senate | Democrat | 74.1% | Won | 1 | 0.0671 |
| 2020 | General | AZ | Senate | Republican | 25.9% | Lost | 0 | 0.0671 |
| 2020 | General | CA | Presidency | Biden | 91.7% | Won | 1 | 0.0069 |
| 2020 | General | CA | Presidency | Trump | 8.3% | Lost | 0 | 0.0069 |
| 2020 | General | CO | Presidency | Biden | 88.3% | Won | 1 | 0.0137 |
| 2020 | General | CO | Presidency | Trump | 11.7% | Lost | 0 | 0.0137 |
| 2020 | General | CO | Senate | Democrat | 89.1% | Won | 1 | 0.0119 |
| 2020 | General | CO | Senate | Republican | 10.9% | Lost | 0 | 0.0119 |
| 2020 | General | CT | Presidency | Biden | 93.5% | Won | 1 | 0.0042 |
| 2020 | General | CT | Presidency | Trump | 6.5% | Lost | 0 | 0.0042 |
| 2020 | General | DE | Presidency | Biden | 93.6% | Won | 1 | 0.0041 |
| 2020 | General | DE | Presidency | Trump | 6.4% | Lost | 0 | 0.0041 |
| 2020 | General | DE | Senate | Democrat | 94.0% | Won | 1 | 0.0036 |
| 2020 | General | DE | Senate | Republican | 6.0% | Lost | 0 | 0.0036 |
| 2020 | General | FL | Presidency | Biden | 40.3% | Lost | 0 | 0.1624 |
| 2020 | General | FL | Presidency | Trump | 59.7% | Won | 1 | 0.1624 |
| 2020 | General | GA | Presidency | Biden | 39.5% | Won | 1 | 0.3660 |
| 2020 | General | GA | Presidency | Trump | 60.5% | Lost | 0 | 0.3660 |
| 2020 | General | GA | Senate | Democrat | 41.8% | Won | 1 | 0.3387 |
| 2020 | General | GA | Senate | Republican | 58.2% | Lost | 0 | 0.3387 |
| 2020 | General | GA2 | Senate | Democrat | 53.4% | Won | 1 | 0.2172 |
| 2020 | General | GA2 | Senate | Republican | 46.6% | Lost | 0 | 0.2172 |
| 2020 | General | HI | Presidency | Biden | 93.6% | Won | 1 | 0.0041 |
| 2020 | General | HI | Presidency | Trump | 6.4% | Lost | 0 | 0.0041 |
| 2020 | General | IA | Presidency | Biden | 23.0% | Lost | 0 | 0.0529 |
| 2020 | General | IA | Presidency | Trump | 77.0% | Won | 1 | 0.0529 |
| 2020 | General | IA | Senate | Democrat | 33.2% | Lost | 0 | 0.1102 |
| 2020 | General | IA | Senate | Republican | 66.8% | Won | 1 | 0.1102 |
| 2020 | General | ID | Presidency | Biden | 2.5% | Lost | 0 | 0.0006 |
| 2020 | General | ID | Presidency | Trump | 97.5% | Won | 1 | 0.0006 |
| 2020 | General | ID | Senate | Democrat | 1.5% | Lost | 0 | 0.0002 |
| 2020 | General | ID | Senate | Republican | 98.5% | Won | 1 | 0.0002 |
| 2020 | General | IL | Presidency | Biden | 92.7% | Won | 1 | 0.0053 |
| 2020 | General | IL | Presidency | Trump | 7.3% | Lost | 0 | 0.0053 |
| 2020 | General | IL | Senate | Democrat | 95.5% | Won | 1 | 0.0020 |
| 2020 | General | IL | Senate | Republican | 4.5% | Lost | 0 | 0.0020 |
| 2020 | General | IN | Presidency | Biden | 5.5% | Lost | 0 | 0.0030 |
| 2020 | General | IN | Presidency | Trump | 94.5% | Won | 1 | 0.0030 |
| 2020 | General | KS | Presidency | Biden | 5.5% | Lost | 0 | 0.0030 |
| 2020 | General | KS | Presidency | Trump | 94.5% | Won | 1 | 0.0030 |
| 2020 | General | KS | Senate | Democrat | 11.9% | Lost | 0 | 0.0142 |
| 2020 | General | KS | Senate | Republican | 88.1% | Won | 1 | 0.0142 |
| 2020 | General | KY | Presidency | Biden | 3.5% | Lost | 0 | 0.0012 |
| 2020 | General | KY | Presidency | Trump | 96.5% | Won | 1 | 0.0012 |
| 2020 | General | KY | Senate | Democrat | 8.4% | Lost | 0 | 0.0071 |
| 2020 | General | KY | Senate | Republican | 91.6% | Won | 1 | 0.0071 |
| 2020 | General | LA | Presidency | Biden | 3.9% | Lost | 0 | 0.0015 |
| 2020 | General | LA | Presidency | Trump | 96.1% | Won | 1 | 0.0015 |
| 2020 | General | LA | Senate | Democrat | 4.9% | Lost | 0 | 0.0024 |
| 2020 | General | LA | Senate | Republican | 95.1% | Won | 1 | 0.0024 |
| 2020 | General | MA | Presidency | Biden | 94.0% | Won | 1 | 0.0036 |
| 2020 | General | MA | Presidency | Trump | 6.0% | Lost | 0 | 0.0036 |
| 2020 | General | MA | Senate | Democrat | 96.5% | Won | 1 | 0.0012 |
| 2020 | General | MA | Senate | Republican | 3.5% | Lost | 0 | 0.0012 |
| 2020 | General | MD | Presidency | Biden | 94.6% | Won | 1 | 0.0029 |
| 2020 | General | MD | Presidency | Trump | 6.4% | Lost | 0 | 0.0041 |
| 2020 | General | ME | Presidency | Biden | 88.1% | Won | 1 | 0.0142 |
| 2020 | General | ME | Presidency | Trump | 11.9% | Lost | 0 | 0.0142 |
| 2020 | General | ME | Senate | Democrat | 66.2% | Lost | 0 | 0.4382 |
| 2020 | General | ME | Senate | Republican | 33.8% | Won | 1 | 0.4382 |
| 2020 | General | ME2 | Presidency | Biden | 45.0% | Lost | 0 | 0.2025 |
| 2020 | General | ME2 | Presidency | Trump | 55.0% | Won | 1 | 0.2025 |
| 2020 | General | MI | Presidency | Biden | 67.8% | Won | 1 | 0.1037 |
| 2020 | General | MI | Presidency | Trump | 32.2% | Lost | 0 | 0.1037 |
| 2020 | General | MI | Senate | Democrat | 68.4% | Won | 1 | 0.0999 |
| 2020 | General | MI | Senate | Republican | 31.6% | Lost | 0 | 0.0999 |
| 2020 | General | MN | Presidency | Biden | 73.7% | Won | 1 | 0.0692 |
| 2020 | General | MN | Presidency | Trump | 26.3% | Lost | 0 | 0.0692 |
| 2020 | General | MN | Senate | Democrat | 78.2% | Won | 1 | 0.0475 |
| 2020 | General | MN | Senate | Republican | 22.8% | Lost | 0 | 0.0520 |
| 2020 | General | MO | Presidency | Biden | 5.5% | Lost | 0 | 0.0030 |
| 2020 | General | MO | Presidency | Trump | 94.5% | Won | 1 | 0.0030 |
| 2020 | General | MS | Presidency | Biden | 5.0% | Lost | 0 | 0.0025 |
| 2020 | General | MS | Presidency | Trump | 95.0% | Won | 1 | 0.0025 |
| 2020 | General | MS | Senate | Democrat | 11.3% | Lost | 0 | 0.0128 |
| 2020 | General | MS | Senate | Republican | 88.7% | Won | 1 | 0.0128 |
| 2020 | General | MT | Presidency | Biden | 10.5% | Lost | 0 | 0.0110 |
| 2020 | General | MT | Presidency | Trump | 89.5% | Won | 1 | 0.0110 |
| 2020 | General | MT | Senate | Democrat | 35.1% | Lost | 0 | 0.1232 |
| 2020 | General | MT | Senate | Republican | 64.9% | Won | 1 | 0.1232 |
| 2020 | General | National | Presidency | Biden 2020 | 62.0% | Won | 1 | 0.1444 |
| 2020 | General | National | Presidency | DEM House Control | 83.3% | Won | 1 | 0.0279 |
| 2020 | General | National | Presidency | DEM Senate Control | 44.3% | Won | 1 | 0.3102 |
| 2020 | General | National | Presidency | REP House Control | 16.7% | Lost | 0 | 0.0279 |
| 2020 | General | National | Presidency | REP Senate Control | 55.7% | Lost | 0 | 0.3102 |
| 2020 | General | National | Presidency | Trump 2020 | 38.0% | Lost | 0 | 0.1444 |
| 2020 | General | NC | Presidency | Biden | 47.3% | Lost | 0 | 0.2237 |
| 2020 | General | NC | Presidency | Trump | 52.7% | Won | 1 | 0.2237 |
| 2020 | General | NC | Senate | Democrat | 57.2% | Lost | 0 | 0.3272 |
| 2020 | General | NC | Senate | Republican | 42.8% | Won | 1 | 0.3272 |
| 2020 | General | ND | Presidency | Biden | 3.5% | Lost | 0 | 0.0012 |
| 2020 | General | ND | Presidency | Trump | 96.5% | Won | 1 | 0.0012 |
| 2020 | General | NE | Presidency | Biden | 4.0% | Lost | 0 | 0.0016 |
| 2020 | General | NE | Presidency | Trump | 96.0% | Won | 1 | 0.0016 |
| 2020 | General | NE | Senate | Democrat | 1.0% | Lost | 0 | 0.0001 |
| 2020 | General | NE | Senate | Republican | 99.0% | Won | 1 | 0.0001 |
| 2020 | General | NE2 | Presidency | Biden | 71.2% | Won | 1 | 0.0829 |
| 2020 | General | NE2 | Presidency | Trump | 28.8% | Lost | 0 | 0.0829 |
| 2020 | General | NH | Presidency | Biden | 76.5% | Won | 1 | 0.0552 |
| 2020 | General | NH | Presidency | Trump | 23.5% | Lost | 0 | 0.0552 |
| 2020 | General | NH | Senate | Democrat | 90.6% | Won | 1 | 0.0088 |
| 2020 | General | NH | Senate | Republican | 9.4% | Lost | 0 | 0.0088 |
| 2020 | General | NJ | Presidency | Biden | 93.1% | Won | 1 | 0.0048 |
| 2020 | General | NJ | Presidency | Trump | 6.9% | Lost | 0 | 0.0048 |
| 2020 | General | NJ | Senate | Democrat | 94.6% | Won | 1 | 0.0029 |
| 2020 | General | NJ | Senate | Republican | 5.4% | Lost | 0 | 0.0029 |
| 2020 | General | NM | Presidency | Biden | 87.3% | Won | 1 | 0.0161 |
| 2020 | General | NM | Presidency | Trump | 12.7% | Lost | 0 | 0.0161 |
| 2020 | General | NM | Senate | Democrat | 91.1% | Won | 1 | 0.0079 |
| 2020 | General | NM | Senate | Republican | 8.9% | Lost | 0 | 0.0079 |
| 2020 | General | NV | Presidency | Biden | 71.1% | Won | 1 | 0.0835 |
| 2020 | General | NV | Presidency | Trump | 28.9% | Lost | 0 | 0.0835 |
| 2020 | General | NY | Presidency | Biden | 90.7% | Won | 1 | 0.0086 |
| 2020 | General | NY | Presidency | Trump | 9.3% | Lost | 0 | 0.0086 |
| 2020 | General | OH | Presidency | Biden | 27.0% | Lost | 0 | 0.0729 |
| 2020 | General | OH | Presidency | Trump | 73.0% | Won | 1 | 0.0729 |
| 2020 | General | OK | Presidency | Biden | 2.5% | Lost | 0 | 0.0006 |
| 2020 | General | OK | Presidency | Trump | 97.5% | Won | 1 | 0.0006 |
| 2020 | General | OK | Senate | Democrat | 14.9% | Lost | 0 | 0.0222 |
| 2020 | General | OK | Senate | Republican | 85.1% | Won | 1 | 0.0222 |
| 2020 | General | OR | Presidency | Biden | 92.0% | Won | 1 | 0.0064 |
| 2020 | General | OR | Presidency | Trump | 8.0% | Lost | 0 | 0.0064 |
| 2020 | General | OR | Senate | Democrat | 92.2% | Won | 1 | 0.0061 |
| 2020 | General | OR | Senate | Republican | 7.8% | Lost | 0 | 0.0061 |
| 2020 | General | PA | Presidency | Biden | 58.5% | Won | 1 | 0.1722 |
| 2020 | General | PA | Presidency | Trump | 41.5% | Lost | 0 | 0.1722 |
| 2020 | General | RI | Presidency | Biden | 93.6% | Won | 1 | 0.0041 |
| 2020 | General | RI | Presidency | Trump | 6.4% | Lost | 0 | 0.0041 |
| 2020 | General | RI | Senate | Democrat | 96.0% | Won | 1 | 0.0016 |
| 2020 | General | RI | Senate | Republican | 3.5% | Lost | 0 | 0.0012 |
| 2020 | General | SC | Presidency | Biden | 7.4% | Lost | 0 | 0.0055 |
| 2020 | General | SC | Presidency | Trump | 92.6% | Won | 1 | 0.0055 |
| 2020 | General | SC | Senate | Democrat | 21.7% | Lost | 0 | 0.0471 |
| 2020 | General | SC | Senate | Republican | 78.3% | Won | 1 | 0.0471 |
| 2020 | General | SD | Presidency | Biden | 3.5% | Lost | 0 | 0.0012 |
| 2020 | General | SD | Presidency | Trump | 96.5% | Won | 1 | 0.0012 |
| 2020 | General | SD | Senate | Democrat | 1.0% | Lost | 0 | 0.0001 |
| 2020 | General | SD | Senate | Republican | 99.0% | Won | 1 | 0.0001 |
| 2020 | General | TN | Presidency | Biden | 3.5% | Lost | 0 | 0.0012 |
| 2020 | General | TN | Presidency | Trump | 96.5% | Won | 1 | 0.0012 |
| 2020 | General | TN | Senate | Democrat | 6.4% | Lost | 0 | 0.0041 |
| 2020 | General | TN | Senate | Republican | 93.6% | Won | 1 | 0.0041 |
| 2020 | General | TX | Presidency | Biden | 27.0% | Lost | 0 | 0.0729 |
| 2020 | General | TX | Presidency | Trump | 73.0% | Won | 1 | 0.0729 |
| 2020 | General | TX | Senate | Democrat | 13.4% | Lost | 0 | 0.0180 |
| 2020 | General | TX | Senate | Republican | 86.6% | Won | 1 | 0.0180 |
| 2020 | General | UT | Presidency | Biden | 5.0% | Lost | 0 | 0.0025 |
| 2020 | General | UT | Presidency | Trump | 95.0% | Won | 1 | 0.0025 |
| 2020 | General | VA | Presidency | Biden | 86.8% | Won | 1 | 0.0174 |
| 2020 | General | VA | Presidency | Trump | 13.2% | Lost | 0 | 0.0174 |
| 2020 | General | VA | Senate | Democrat | 92.0% | Won | 1 | 0.0064 |
| 2020 | General | VA | Senate | Republican | 8.0% | Lost | 0 | 0.0064 |
| 2020 | General | VT | Presidency | Biden | 93.6% | Won | 1 | 0.0041 |
| 2020 | General | VT | Presidency | Trump | 6.4% | Lost | 0 | 0.0041 |
| 2020 | General | WA | Presidency | Biden | 92.6% | Won | 1 | 0.0055 |
| 2020 | General | WA | Presidency | Trump | 7.4% | Lost | 0 | 0.0055 |
| 2020 | General | WI | Presidency | Biden | 67.8% | Won | 1 | 0.1037 |
| 2020 | General | WI | Presidency | Trump | 32.2% | Lost | 0 | 0.1037 |
| 2020 | General | WV | Presidency | Biden | 2.5% | Lost | 0 | 0.0006 |
| 2020 | General | WV | Presidency | Trump | 97.5% | Won | 1 | 0.0006 |
| 2020 | General | WV | Senate | Democrat | 3.9% | Lost | 0 | 0.0015 |
| 2020 | General | WV | Senate | Republican | 96.1% | Won | 1 | 0.0015 |
| 2020 | General | WY | Presidency | Biden | 1.5% | Lost | 0 | 0.0002 |
| 2020 | General | WY | Presidency | Trump | 98.5% | Won | 1 | 0.0002 |
| 2020 | General | WY | Senate | Democrat | 2.0% | Lost | 0 | 0.0004 |
| 2020 | General | WY | Senate | Republican | 98.0% | Won | 1 | 0.0004 |
| 2020 | Primary | IA | Presidency | Biden | 20.3% | Lost | 0 | 0.0412 |
| 2020 | Primary | IA | Presidency | Buttigieg | 8.6% | Lost | 0 | 0.0074 |
| 2020 | Primary | IA | Presidency | Klobuchar | 1.8% | Lost | 0 | 0.0003 |
| 2020 | Primary | IA | Presidency | Sanders | 62.1% | Won | 1 | 0.1436 |
| 2020 | Primary | IA | Presidency | Warren | 5.9% | Lost | 0 | 0.0035 |
| 2020 | Primary | IA | Presidency | Yang | 1.4% | Lost | 0 | 0.0002 |
| 2020 | Primary | ID | Presidency | Biden | 75.8% | Won | 1 | 0.0586 |
| 2020 | Primary | ID | Presidency | Sanders | 21.4% | Lost | 0 | 0.0458 |
| 2020 | Primary | MI | Presidency | Biden | 91.1% | Won | 1 | 0.0079 |
| 2020 | Primary | MI | Presidency | Sanders | 8.8% | Lost | 0 | 0.0077 |
| 2020 | Primary | NH | Presidency | Biden | 1.4% | Lost | 0 | 0.0002 |
| 2020 | Primary | NH | Presidency | Bloomberg | 1.0% | Lost | 0 | 0.0001 |
| 2020 | Primary | NH | Presidency | Buttigieg | 16.8% | Lost | 0 | 0.0282 |
| 2020 | Primary | NH | Presidency | Gabbard | 1.0% | Lost | 0 | 0.0001 |
| 2020 | Primary | NH | Presidency | Klobuchar | 3.7% | Lost | 0 | 0.0014 |
| 2020 | Primary | NH | Presidency | Sanders | 76.2% | Won | 1 | 0.0566 |
| 2020 | Primary | NH | Presidency | Steyer | 1.0% | Lost | 0 | 0.0001 |
| 2020 | Primary | NH | Presidency | Warren | 1.4% | Lost | 0 | 0.0002 |
| 2020 | Primary | NH | Presidency | Yang | 1.0% | Lost | 0 | 0.0001 |
| 2020 | Primary | NV | Presidency | Biden | 5.3% | Lost | 0 | 0.0028 |
| 2020 | Primary | NV | Presidency | Buttigieg | 6.2% | Lost | 0 | 0.0038 |
| 2020 | Primary | NV | Presidency | Gabbard | 0.1% | Lost | 0 | 0.0000 |
| 2020 | Primary | NV | Presidency | Klobuchar | 0.1% | Lost | 0 | 0.0000 |
| 2020 | Primary | NV | Presidency | Sanders | 86.5% | Won | 1 | 0.0182 |
| 2020 | Primary | NV | Presidency | Steyer | 0.1% | Lost | 0 | 0.0000 |
| 2020 | Primary | NV | Presidency | Warren | 1.4% | Lost | 0 | 0.0002 |
| 2020 | Primary | NV | Presidency | Yang | 0.1% | Lost | 0 | 0.0000 |
| 2020 | Primary | SC | Presidency | Biden | 87.5% | Won | 1 | 0.0156 |
| 2020 | Primary | SC | Presidency | Bloomberg | 1.0% | Lost | 0 | 0.0001 |
| 2020 | Primary | SC | Presidency | Buttigieg | 1.0% | Lost | 0 | 0.0001 |
| 2020 | Primary | SC | Presidency | Gabbard | 1.0% | Lost | 0 | 0.0001 |
| 2020 | Primary | SC | Presidency | Klobuchar | 1.0% | Lost | 0 | 0.0001 |
| 2020 | Primary | SC | Presidency | Sanders | 11.7% | Lost | 0 | 0.0137 |
| 2020 | Primary | SC | Presidency | Steyer | 1.0% | Lost | 0 | 0.0001 |
| 2020 | Primary | SC | Presidency | Warren | 1.0% | Lost | 0 | 0.0001 |
| 2020 | Primary | SC | Presidency | Yang | 1.0% | Lost | 0 | 0.0001 |
| 2020 | Primary | WA | Presidency | Biden | 66.4% | Won | 1 | 0.1129 |
| 2020 | Primary | WA | Presidency | Sanders | 33.5% | Lost | 0 | 0.1122 |
| 2022 | General | AK | Governor | Democrat | 5.5% | Lost | 0 | 0.0030 |
| 2022 | General | AK | Governor | Republican | 94.5% | Won | 1 | 0.0030 |
| 2022 | General | AK | Senate | Democrat | 1.5% | Lost | 0 | 0.0002 |
| 2022 | General | AK | Senate | Republican | 98.5% | Won | 1 | 0.0002 |
| 2022 | General | AZ | Governor | Democrat | 18.3% | Won | 1 | 0.6675 |
| 2022 | General | AZ | Governor | Republican | 81.7% | Lost | 0 | 0.6675 |
| 2022 | General | AZ | Senate | Democrat | 50.2% | Won | 1 | 0.2480 |
| 2022 | General | AZ | Senate | Republican | 49.8% | Lost | 0 | 0.2480 |
| 2022 | General | CO | Governor | Democrat | 97.0% | Won | 1 | 0.0009 |
| 2022 | General | CO | Governor | Republican | 3.0% | Lost | 0 | 0.0009 |
| 2022 | General | CO | Senate | Democrat | 89.7% | Won | 1 | 0.0106 |
| 2022 | General | CO | Senate | Republican | 10.3% | Lost | 0 | 0.0106 |
| 2022 | General | CT | Governor | Democrat | 95.5% | Won | 1 | 0.0020 |
| 2022 | General | CT | Governor | Republican | 4.5% | Lost | 0 | 0.0020 |
| 2022 | General | FL | Governor | Democrat | 2.5% | Lost | 0 | 0.0006 |
| 2022 | General | FL | Governor | Republican | 97.5% | Won | 1 | 0.0006 |
| 2022 | General | FL | Senate | Democrat | 2.5% | Lost | 0 | 0.0006 |
| 2022 | General | FL | Senate | Republican | 97.5% | Won | 1 | 0.0006 |
| 2022 | General | GA | Governor | Democrat | 6.4% | Lost | 0 | 0.0041 |
| 2022 | General | GA | Governor | Republican | 93.6% | Won | 1 | 0.0041 |
| 2022 | General | IA | Senate | Democrat | 3.5% | Lost | 0 | 0.0012 |
| 2022 | General | IA | Senate | Republican | 96.5% | Won | 1 | 0.0012 |
| 2022 | General | IL | Governor | Democrat | 96.1% | Won | 1 | 0.0015 |
| 2022 | General | IL | Governor | Republican | 3.9% | Lost | 0 | 0.0015 |
| 2022 | General | IL | Senate | Democrat | 97.0% | Won | 1 | 0.0009 |
| 2022 | General | IL | Senate | Republican | 3.0% | Lost | 0 | 0.0009 |
| 2022 | General | KS | Governor | Democrat | 46.6% | Won | 1 | 0.2852 |
| 2022 | General | KS | Governor | Republican | 53.4% | Lost | 0 | 0.2852 |
| 2022 | General | MA | Governor | Democrat | 98.5% | Won | 1 | 0.0002 |
| 2022 | General | MA | Governor | Republican | 1.5% | Lost | 0 | 0.0002 |
| 2022 | General | MD | Governor | Democrat | 98.5% | Won | 1 | 0.0002 |
| 2022 | General | MD | Governor | Republican | 1.5% | Lost | 0 | 0.0002 |
| 2022 | General | ME | Governor | Democrat | 85.5% | Won | 1 | 0.0210 |
| 2022 | General | ME | Governor | Republican | 14.5% | Lost | 0 | 0.0210 |
| 2022 | General | MI | Governor | Democrat | 72.0% | Won | 1 | 0.0784 |
| 2022 | General | MI | Governor | Republican | 28.0% | Lost | 0 | 0.0784 |
| 2022 | General | MN | Governor | Democrat | 87.5% | Won | 1 | 0.0156 |
| 2022 | General | MN | Governor | Republican | 12.5% | Lost | 0 | 0.0156 |
| 2022 | General | MO | Senate | Democrat | 1.5% | Lost | 0 | 0.0002 |
| 2022 | General | MO | Senate | Republican | 98.5% | Won | 1 | 0.0002 |
| 2022 | General | National | House | Democrat | 13.0% | Lost | 0 | 0.0169 |
| 2022 | General | National | House | Republican | 87.0% | Won | 1 | 0.0169 |
| 2022 | General | National | Senate | Democrat | 32.5% | Won | 1 | 0.4556 |
| 2022 | General | National | Senate | Republican | 67.5% | Lost | 0 | 0.4556 |
| 2022 | General | NC | Senate | Democrat | 9.5% | Lost | 0 | 0.0090 |
| 2022 | General | NC | Senate | Republican | 90.5% | Won | 1 | 0.0090 |
| 2022 | General | NH | Senate | Democrat | 61.7% | Won | 1 | 0.1467 |
| 2022 | General | NH | Senate | Republican | 38.3% | Lost | 0 | 0.1467 |
| 2022 | General | NM | Governor | Democrat | 79.0% | Won | 1 | 0.0441 |
| 2022 | General | NM | Governor | Republican | 21.0% | Lost | 0 | 0.0441 |
| 2022 | General | NV | Governor | Democrat | 20.9% | Lost | 0 | 0.0437 |
| 2022 | General | NV | Governor | Republican | 79.1% | Won | 1 | 0.0437 |
| 2022 | General | NV | Senate | Democrat | 34.6% | Won | 1 | 0.4277 |
| 2022 | General | NV | Senate | Republican | 65.6% | Lost | 0 | 0.4303 |
| 2022 | General | NY | Governor | Democrat | 80.5% | Won | 1 | 0.0380 |
| 2022 | General | NY | Governor | Republican | 19.5% | Lost | 0 | 0.0380 |
| 2022 | General | OH | Governor | Democrat | 1.5% | Lost | 0 | 0.0002 |
| 2022 | General | OH | Governor | Republican | 98.5% | Won | 1 | 0.0002 |
| 2022 | General | OH | Senate | Democrat | 9.4% | Lost | 0 | 0.0088 |
| 2022 | General | OH | Senate | Republican | 90.6% | Won | 1 | 0.0088 |
| 2022 | General | OR | Governor | Democrat | 65.0% | Won | 1 | 0.1225 |
| 2022 | General | OR | Governor | Republican | 35.0% | Lost | 0 | 0.1225 |
| 2022 | General | OR | Senate | Democrat | 97.5% | Won | 1 | 0.0006 |
| 2022 | General | OR | Senate | Republican | 2.5% | Lost | 0 | 0.0006 |
| 2022 | General | PA | Governor | Democrat | 88.7% | Won | 1 | 0.0128 |
| 2022 | General | PA | Governor | Republican | 12.3% | Lost | 0 | 0.0151 |
| 2022 | General | PA | Senate | Democrat | 38.6% | Won | 1 | 0.3770 |
| 2022 | General | PA | Senate | Republican | 61.4% | Lost | 0 | 0.3770 |
| 2022 | General | TX | Governor | Democrat | 4.5% | Lost | 0 | 0.0020 |
| 2022 | General | TX | Governor | Republican | 95.5% | Won | 1 | 0.0020 |
| 2022 | General | WA | Senate | Democrat | 83.7% | Won | 1 | 0.0266 |
| 2022 | General | WA | Senate | Republican | 16.3% | Lost | 0 | 0.0266 |
| 2022 | General | WI | Governor | Democrat | 29.0% | Won | 1 | 0.5041 |
| 2022 | General | WI | Governor | Republican | 71.0% | Lost | 0 | 0.5041 |
| 2022 | General | WI | Senate | Democrat | 11.4% | Lost | 0 | 0.0130 |
| 2022 | General | WI | Senate | Republican | 88.6% | Won | 1 | 0.0130 |
| 2022 | PM | Intl. | France | Le Pen | 5.3% | Lost | 0 | 0.0028 |
| 2022 | PM | Intl. | France | Macron | 94.5% | Won | 1 | 0.0030 |
| 2022 | PM | Intl. | Hungary | Marki-Zay | 1.6% | Lost | 0 | 0.0003 |
| 2022 | PM | Intl. | Hungary | Orban | 88.6% | Won | 1 | 0.0130 |
| 2022 | PM | Intl. | Italy | Draghi | 1.0% | Lost | 0 | 0.0001 |
| 2022 | PM | Intl. | Italy | Letta | 0.7% | Lost | 0 | 0.0000 |
| 2022 | PM | Intl. | Italy | Meloni | 98.4% | Won | 1 | 0.0003 |
| 2022 | PM | Intl. | Italy | Salvini | 0.0% | Lost | 0 | 0.0000 |
| 2022 | President | Intl. | Brazil | Bolsonaro | 31.8% | Lost | 0 | 0.1011 |
| 2022 | President | Intl. | Brazil | Lulu da Silva | 67.2% | Won | 1 | 0.1076 |
| 2022 | Runoff | GA | Senate | Walker (Rep) | 7.4% | Lost | 0 | 0.0055 |
| 2022 | Runoff | GA | Senate | Warnock (Dem) | 92.6% | Won | 1 | 0.0055 |
Back to Election Betting Odds